Spell Vowel Digraph Games
This spelling game helps your students learn how to spell long vowel phoneme words with the ea phoneme. You can play this game on all devices, from iPads to Chromebooks and Interactive Whiteboards. It's ideal for KS1 learners and uses phase 3 phonics. These games are part of our spelling games KS1 collection.
Play more vowel digraph games on Club Roy, our subscription website. Including: a-e, aw, ay, ea, ee, er, ew, i-e, ir, oa, oi, oo, or, ou, ow (brown), ow (show) and oy words.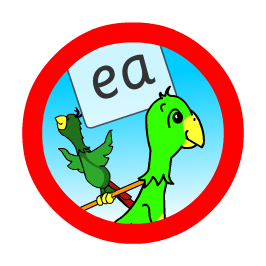 Spell ea Words with Mango
Printables:
An easy to use spelling game that will help you learn how to spell ea words. Mango is having a rest from flying, she's been a busy parrot (involved in rescuing Lucy the Elephant don't you know)... she would still like to have a zoom around the sky though. Help her go flying with her friends by spelling the ea words correctly.
Wait for the game to load and then read the instructions on the first screen.

An empty phoneme frame will be built on the screen and the word you need to spell will be said. Don't worry if you didn't hear it, you can listen again by touching or clicking the loudspeaker icon.

Take note of the shapes in the phoneme frame, they'll help you find the right phonemes.

The phonemes you need to spell the word can be found at the bottom of the screen. You can drag them around the screen by touching / clicking and holding them.

As you touch or click and hold the phoneme you'll hear its sound. Good eh!?

Drag the phoneme up to the phoneme frame and drop it in where you think it should be. The phoneme will then appear in the phoneme frame.

Don't worry if you dropped it in the wrong place, you can always click our friendly bee to undo the last phoneme you dragged and dropped.

Keep going until you have filled the phoneme frame with the phonemes.

Once you have filled the phoneme frame, check your word. Have you spelt it correctly? You can check the sounds, by touching or clicking on each phoneme.

If you think the word is OK, then click or touch the Mark button.

The game will mark the answer for you.

If you got the word right, then well done! Click the Next button to advance to the next word.

Did you get the wrong? No worries, try again.

As you play, watch Mango go flying with her friends.

Have fun!


Interactive phoneme frames, draggable phonemes with audio, sound effects, animated Mango and friends. Background ambience and graphics.
The game is compatible with iPads, Android tablets, Chromebooks, desktop PCs and MACs and of course, Interactive Whiteboards.